Get a Library Card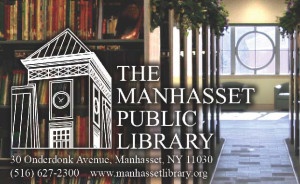 Residents living within the Manhasset School District are eligible for a Manhasset Public Library card.
Acceptable identification is required:
Drivers license
Utility bill with your name on it
Check with name and address printed
Bank statement
Lease or deed
Teachers employed by the Manhasset School District are eligible for a Manhasset Library Card with all borrowing privileges at no charge. Cards are valid for one year and are renewable with valid ID.
People working in Manhasset may purchase a library card for $10 per year upon presentation of a letter from their employer.
Children 4 years and older who can write their name and are accompanied by an adult with a valid card can receive their own library card.
Students at St. Marys are eligible for a Manhasset Library card upon presentation of their school ID. There is no charge.