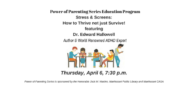 Manhasset CASA Power of Parenting Series (Grades 6-12 Parents)
Thursday, April 6, 7:30 p.m.
Stress & Screens: How to Thrive not just Survive!
Featuring Dr. Edward Hallowell, Author & World Renowned ADHD Expert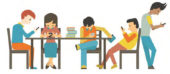 Are your kids addicted to their devices?  Are you worried about the short and long term effects of this technology?
Registration is required.  Click Here to Register
This program is funded through the New York State Senate, Manhasset Public Library, Manhasset CASA and Manhasset Septa.

Important Library Budget and Board of Trustee Election Information
Library Board of Trustees Meeting and Annual Budget Hearing on Wednesday, March 22nd at 7 pm in the Community Room.
Board of Registration at Library on Thursday, March 23rd from

3-7 pm

in the 2nd floor Conference Room to conduct In-Person Registration.
Annual Budget Vote and Trustee Election on Wednesday, April 5th, from

7 am to 9 pm.