Friends of the Library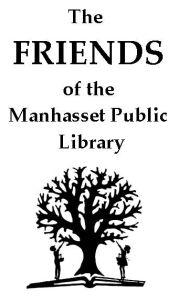 The Friends are a group of volunteers interested in supporting the library and creating public interest in the programs and facilities of the library.   They are dedicated to strengthening the ties between our library and community, and to advancing the library's mission as a center for lifelong learning, information and culture.
Since 1974,  the generosity of The Friends, the following has  made the following possible: Book and Author event featuring Pulitzer Prize winning author JR Moehringer; teen productions of Almost Maine and The Brothers Grimm Spectaculathon;  Our Town: Manhasset Memories Historic Photographic Exhibit;  Grand Piano; Coffee House Book Review; The Healthy Living Series & Exercise Classes; Toy Time Materials; Children's Room Floral Décor; Fabulous Family Sundays; Musical Programs & Lectures.
If you would like to become a member of the Friends Board please contact us at 516-627-2300,  Ext. 345, or CLICK HERE to download the Friends of the Library Membership Form.
Our membership board includes:
Rosanne Vogel, President
Virginia D'Antonio
Janet DeWinter
Mary Donno
Laura Hull
Mary Frances Jeffery
Maureen Lavin